Using Voice Control on your Sky Q box
With Voice Control, you're able to do even more with your Sky Q touch remote.
You can search for shows, movies, actors, sporting events or use it to control your Sky Q box.
To find out more, watch our help video or read the information below.
Before you use Voice Control, make sure your Sky Q touch remote is paired and you've got an active broadband connection. 
Haven't got a Sky Q touch remote? Visit our Accessories store to purchase one. 
When you're ready:
Hold the Sky Q touch remote in front of you.
Press and hold the voice button as you speak clearly into the microphone (located just below the sky button) on your Sky Q touch remote.
Release the voice button when you've finished speaking. Your Sky Q box will then process your request.
You could use Voice Control to:
Search for a specific show, actor, movie or sporting event, e.g. "Game of Thrones."
Find a movie by using a famous quote from the film. See the PDF below for the complete list. Search for a movie using a famous quote (PDF 136KB)
Change channel, e.g. "Go to Sky 1."
Play a recording, e.g. "Play Toy Story."
Use commands, e.g. "Play" "Pause" "Skip twenty minutes."
Change accessibility settings, e.g. "Turn on subtitles."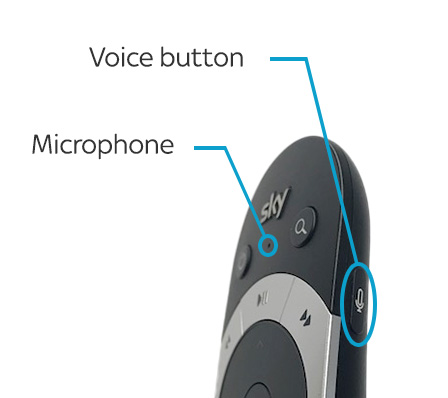 Did you find this helpful?