Setting up Ultra HD
For help on setting up Ultra HD, watch our help video or read the information below.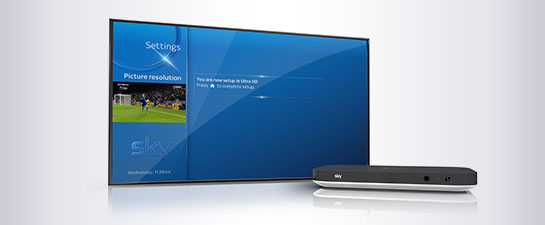 Play Video
To watch in Ultra HD, you'll need:
A Sky Q 2TB box with the Sky Q Multiscreen subscription. To watch sports, movies or Box Sets in Ultra HD you'll need the Sky Sports, Sky Cinema or Sky Box Sets subscriptions.
The HDMI 2.0 cable provided by the engineer during your Sky Q installation. It has a pink connector featuring the Sky logo on both sides and 'High Speed HDMI' printed on the black cable. 

An Ultra HD TV that can display a picture resolution of 3840x2160 pixels at 50 frames per second and has an input that supports HDCP 2.2. For the most popular TV brands, these inputs should work:

LG: Input 1, marked HDCP 2.2.

Panasonic: Inputs 1, 3 or the input marked 4k.

Samsung: The input marked MHL.
Sony: Check what TV models and inputs are available on their website.
Setup
To change your picture resolution to Ultra HD:
Press Home on your Sky remote.

Go to Settings.

Select Setup, then Audio visual.

Choose 2160p (UHD).
To use a sound system with Ultra HD, go to Setting up surround sound.
After setup, if the picture resolution is not supported, the screen will go blank for 10 seconds then revert to a supported resolution. 
If you're seeing a plain coloured screen and cannot access the Sky Q menus, press Home on your Sky Q remote then enter 1080 and press Home again to reset your picture resolution. 
Setup error messages
If you see an error message when trying to set up Ultra HD, see the list below for help.
If your setup is still not working, you may need to speak to the manufacturer of your Ultra HD TV for advice on settings and software updates specific to your TV. 
Here's the legal bit

Ultra HD only available to customers with a Sky Q 2TB box and Multiscreen subscription (£12pm). UHD content depends on Sky TV subscription. UHD TV required. Not available on Sky Q Mini boxes or Sky Q 1TB box. Sky Sports and Sky Cinema required to watch sports and movies in Ultra HD.
Thinking about upgrading your Sky package?
Explore the latest offers and upgrades tailored to you at
My Sky Offers