Program your Sky remote to control your TV
Did you know you can program your Sky remote to control your TV as well as your Sky box? Once set up, you can turn your TV on and off, adjust the volume and even change the input source on your TV, all with your Sky remote control.
How to program your Sky remote to control your TV
You can watch our help video or follow the steps below.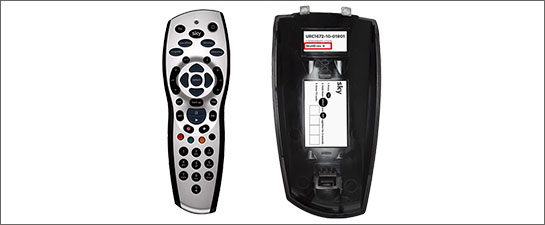 Play Video
Before you get started, you'll need to know the make and model of your TV. You'll usually find this on the back of your TV or on the instruction manual that came with your TV set. You'll also need the version number of your Sky remote - this will be on a sticker on the inside of your battery cover.

Once you've found these, look up your code online and enter the information requested, then select Get my code. Make a note of the four digit code then follow these instructions:
Press tv on your Sky remote, then hold down select and the red button until the red light at the top of the remote flashes twice.
Enter your four digit code then press select.
Your remote should now be able to control your TV. Try changing the volume using the vol +/- buttons to see if you've been successful.
Thinking about upgrading your Sky package?
Explore the latest offers and upgrades tailored to you at
My Sky Offers