Find out about our latest updates:
Voice Control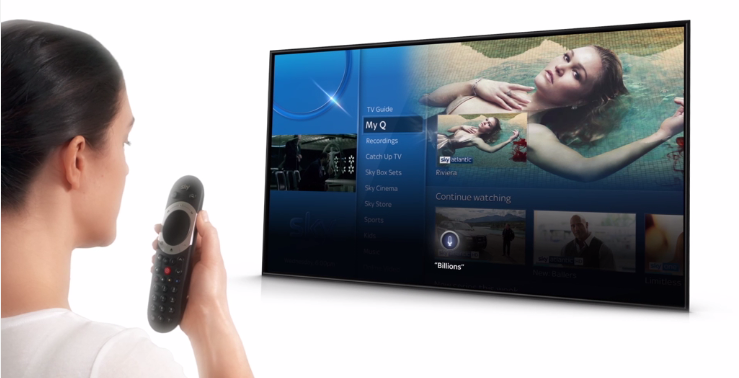 Play Video
With Voice Control, you're able to do even more with your Sky Q touch remote.
As well as searching for a range of shows, sports and movies, you can now control your Sky Q box too. All you need is a paired Sky Q touch remote and an active broadband connection. It's as simple as that.
To use Voice Control, press the voice button and say what you want to do. If you're unsure what to say, why not try some of the below to get you started...
"Change channel to 401."

"Play Game of Thrones."

"Play" "Pause" "Rewind" "Fast forward."

"Skip twenty minutes."

"Go to New Series."

"Turn on subtitles." 

Favourites
Want to quickly find your favourite channels? Now you can.
Set up Favourites in two ways:
Go to your TV Guide, followed by Favourites and then select Setup favourites.

Go to your Settings, scroll to Favourites and then select Setup favourites.

You'll see a list of channels to add to your Favourites, based on what you've watched before. Each channel you add will be given a number from 1-99. To change these channels select Change list and then select Save list when you've made your changes. You can then choose to re-order the list or Save and finish.
Once you're set up, change your list by scrolling to the bottom of Favourites or by going to Settings and selecting Manage favourites. 
When watching live TV
For quick access to your Favourites, enter its number on your Sky Q remote, e.g. press 1 to access the first channel in the list.
You can also access your Favourites in the Mini Guide. Press select or the touchpad to bring up the Mini Guide, then swipe or press left, select Favourites, and choose the channel you're looking for. Or if you're in the TV Guide, scroll to Favourites and select from your list. 
Ultra HD shows in My Q
If you've set up your Sky Q 2TB box to watch in Ultra HD and have the relevant subscription, you'll now find the latest TV and Sky Cinema recommendations in My Q. 
Press the Home button on your Sky Q remote, select My Q and discover what's on offer.