Using search on your Sky Q box
Voice Search
You can now search for shows, movies, actors or sporting events by using Voice Search, allowing you to find what you're looking for by simply pressing a button on your Sky Q remote.
To find out more, watch our help video or read the information below.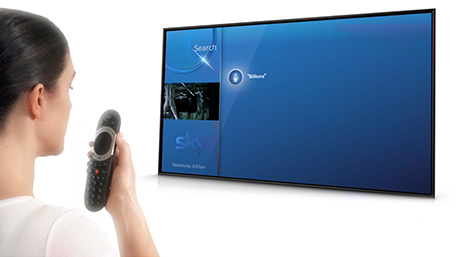 Play Video
Before you use Voice Search, make sure you've got an active broadband connection and a paired Sky Q touch remote. 
Haven't got a Sky Q touch remote? Visit our Accessories store to purchase one now.
Once you're ready to search:
Hold the Sky Q touch remote in front of you.

Press and hold the voice button as you speak clearly into the microphone (located just below the sky button) on your Sky Q touch remote.

Release the voice button when you've finished speaking. Your Sky Q box will then search for your request.

Please note: Voice Search cannot currently be used as a shortcut to access different areas of the Sky Q box, e.g. recordings.
You could search for a:
Specific actor, e.g. 'Matt Damon.'

Movie with a specific genre or rating, e.g. 'Comedy movies rated 5 stars.'

TV show, e.g. 'The Young Pope'

Sporting event or an athlete, e.g. 'Live Football this weekend.'

Certain channel, e.g. 'Sky Atlantic.'

Text search
Press Search on your Sky Q remote and enter what you're looking for.
Use the ribbon to scroll through letters or use the number keys on your Sky Q remote to type in the letters.
Scroll left to delete the last letter, or press Search to start again. Press 0 to enter a space.