Setting up your new Sky Q Mini box
All your Sky Q Mini box needs to work is a connection to an active Sky Q box, broadband and a relevant subscription.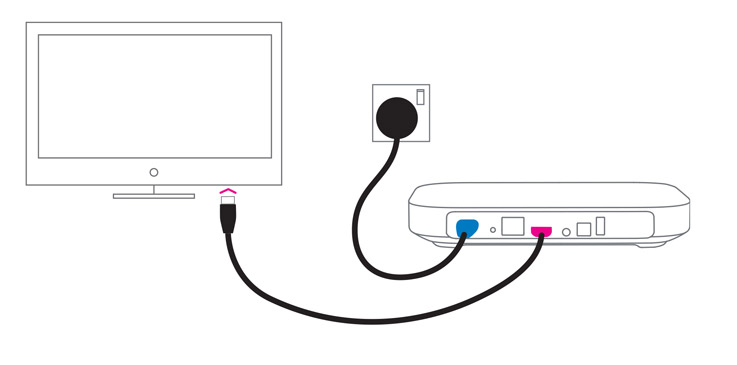 Plug the pink end of the HDMI cable into the pink port of your Sky Q Mini box and the other end into your TV.
Plug the power cable into the blue port of your Sky Q Mini box and plug the other end into the mains and switch on.
Insert the batteries into your Sky Q remote and press the Home button when the power light on your Sky Q Mini box is solid amber. 
Follow the on screen messages to connect your Sky Q Mini box to your Sky Q box.
Once connected, update the software:
Press Home on your Sky Q remote, select Settings, then select System Info.
Select Software Version, then select Setup and follow the on screen instructions.
If your TV doesn't have a HDMI port, you can connect with an AV cable.
If you see any error messages when setting up, please visit Fix connection problems with Sky Q.
Please note: The Sky Q Mini box should not be placed behind a wall-mounted TV as this can cause connectivity issues.
Were you able to set up your Sky Q Mini box?
Take a look at the latest offers and upgrades available for you.
See all offers

Switch to Sky Broadband and get totally unlimited broadband with absolutely no usage caps.
Find out more