Find out how to set up your Sky Q Hub by watching our help video or following the instructions below.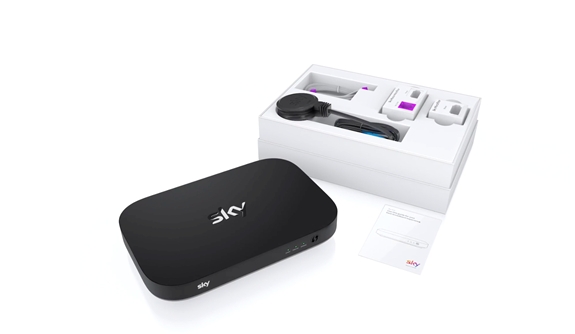 Play Video
If your Sky Hub looks like this, these instructions will help you get your broadband up and running. You can either download our set up guide PDF, or follow the instructions below or in the palm of your hand using the My Sky app. Download it free, today*.
*Compatible device and 3G, 4G or Wi-Fi required (charges may apply). App features and functions vary by platform/device. See iTunes App Store or Google Play Store.
If you're not sure about anything along the way, try the More help with your setup section.
Before you get started
In your Sky Q Hub pack, you should have:
Your Sky Q Hub




Two microfilters including one master microfilter




A power cable




Your setup guide




A grey DSL cable with a purple-ended plug



If you're missing anything, please get in touch with us. 

If you have a

plasma screen TV

, we recommend you

position your Sky Q Hub at least three metres away

from it to prevent interference. 



Try to position your Sky Q Hub in a central location rather than in a corner or on the floor. That'll help you get better Wi-Fi signal throughout your home.

Reflective surfaces can affect your wireless signal, including mirrors or Christmas decorations. If possible, position your Sky Q Hub away from such objects.

How to set up your Sky Q Hub
A few things to remember
You need to fit microfilters 

from your new Sky Q Hub pack to all phone sockets in use in your home.



It's normal for your Sky Q Hub to feel warm while in use.  

Keep your power cord, DSL and any Ethernet cables separated. Your power cord could interfere with your broadband signal if any of your leads become bunched up. 

Your Hub may need to download software, in its first 20 or so minutes, to get up and running properly. Your connection may seem slow or intermittent during this time.

Don't switch off or unplug your Sky Q Hub. 

Keeping it on helps us optimise your speed and update its software overnight. 

If you find there are areas in your home not receiving a strong wireless signal, you could try a Wireless Booster. 
More help with your setup
Thinking about upgrading your Sky package?
Explore the latest offers and upgrades tailored to you at My Sky Offers.