This article will help you set up your Sky Hub if it looks similar to the one below (it could also be white). You can select the 'Play' icon to watch the Sky Hub set up video, download the Set Up Guide PDF, or follow the instructions below or in the palm of your hand using the My Sky app. Download it free, today*.
*Compatible device and 3G, 4G or Wi-Fi required (charges may apply). App features and functions vary by platform/device. See iTunes App Store or Google Play Store.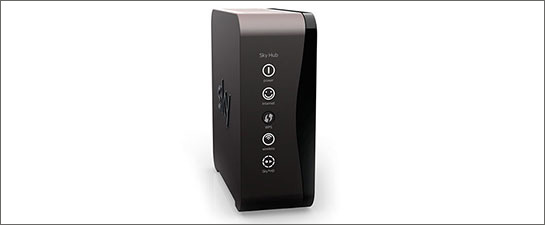 Play Video
If your Sky Hub looks like the one below, you'll need instructions to set up a Sky Q Hub. 
If you're not sure about anything along the way, try the More help with your setup section.
Before you get started
In your Sky Hub pack, you should have received:
Your Sky Hub




A grey ADSL cable




Two microfilters




The power lead for your Sky Hub




A black Ethernet cable




A set up guide




A connect card



If you're missing anything, please get in touch with us. 
How to set up your Sky Hub
A few things to remember
You need to

fit microfilters

from your new Sky Hub pack to all phone sockets in use in your home. 




Your Hub may need to download software, in its first 20 or so minutes, to get up and running properly. Your connection may seem slow or intermittent during this time.

Don't switch off or unplug your Sky Hub. Keeping it on helps us optimise your speed and update your Hub's software overnight.

If you find there are areas in your home not receiving strong wireless signal, you could try a Wireless Booster.
More help with your setup
Thinking about upgrading your Sky package?
Explore the latest offers and upgrades tailored to you at My Sky Offers.