Record up to six shows on a Sky Q 2TB box or record three shows with a Sky Q 1TB box, all whilst watching live TV.
To record six shows on your Sky Q 2TB box, go to Settings, then Setup, followed by Preferences. Change the Maximum number of recordings to 6 and follow the on screen instructions.
Please note: Changing this setting to 6 will remove the live channel preview in the Mini Guide and the split screen feature on Sky Sports. 
Find out about Recording on Sky Q by watching our help video or reading the information below.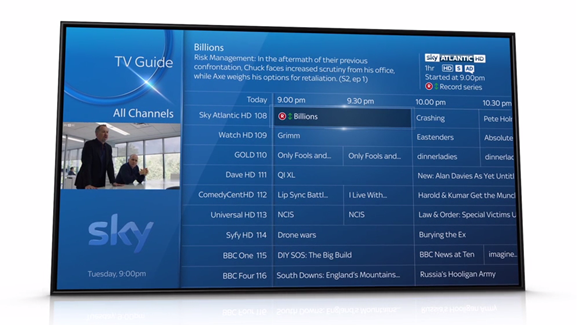 Play Video
Recording a show 
To schedule a recording for TV or radio shows up to seven days before they're broadcast:
Highlight your chosen show and then press Ⓡ.

If the show is part of a series, the "Record series" icon will appear and all episodes will be recorded, including future series when available. Press Ⓡ again if you only want to record that episode.

Scheduling a recording using Remote Record can be done via the Sky Q app.
You'll find a recording in the Recordings tab on all boxes and registered devices.
Manage your recordings
Press sky on your Sky Q remote or select Recordings from the Home screen.
To watch a recording, select it from Most Recent or A-Z. If you've already watched part of it, it'll begin from where you left off. To watch from the beginning, select Watch from start. Unwatched recordings will have a white dot next to its name.
To delete a recording, find it in Most Recent or A-Z and select Delete, or if there's more than one episode, select Delete all.
To restore a deleted recording or permanently delete it, go to Deleted and select Undelete or Delete forever.
To cancel a scheduled recording, select Scheduled, find the show or series then select Cancel recording.
If your Sky Q box is running out of disk space, it'll delete the oldest recordings. To prevent a recording from being deleted, select it and then select Keep.
Catch Up series links

If you download the latest episode of a show from Catch Up, a series link will automatically be set to record the rest of the series, making it easier to stay up-to-date with your favourite shows.
If you want to turn this feature off, go to Settings, followed by Setup and select Preferences, then change Auto record series from catch up to Off.
Parental lock on playback
To PIN protect playback of your recordings (including downloads, purchases and rentals), select Lock from the programme options. To play the recording or remove the lock, enter your Sky TV PIN. 
Error messages
Thinking about upgrading your Sky package?
Explore the latest offers and upgrades tailored to you at My Sky Offers.